Phra Somdej - Wat Keschaiyo

Chaiyoworawiharn Monastery is commonly known as Keschaiyo. The temple is located at Angthong Province where is located nearby Bangkok only 100 Kilometers. This temple was build during Ayuthaya's period. The temple was constructed with a big Buddha image by the name Luangpor Toh. This big image was built using bricks and cement and a huge number of about 84,000 Buddha image tablets were placed inside. The construction and production of Buddha image tablets was done by the revered Somdej Toh – a highly respected monk by Thai people and King.

Phra Somdej Wat Keschaiyo was built in the period of King Rama 4th around B.E. 2409 ( A.D. 1866) and filled in big Buddha image Wat Chaiyoworaviharn, AngThong. As the memorandum of Phraya TipKosa mentioned that Somdej Buddhachan Toh Phromrangsi made this amulet to devote merit for his mother name "Kate".

In B.E.2526 (A.D. 1983), the temple was renovated. The construction produced vibrations thus causing Luangpor Toh, the big Buddha image to collapse. Manay Buddha image amulets known as Phra Somdej Wat Keschaiyo which were contained inside the big Luangpor Toh scattered all ove the floor. A number of them were kept by the persons respecting the magic of such amulet. The rest were placed into the newly built Luangpor Toh.

Phra Somdej Wat Keschaiyo is made of many sacred ingredients. The finished tablets are like fine marble in the form of rectangular shape with the Buddha sitting on 3 to 7 tiers. The head and neck are long and both arms curved together forming someshat a round shape. The body is hollow with thick lap slightly raised up at both ends. The Buddha's sitting posture is positioned inside a double frame known as mirror frame.

There are several moulds but only 3 moulds in preference.

1. Phra Somdej Ket Chaiyo Hok-Chan (six-tiered) - There are 2 moulds which is called Hok- Chan Ok-Tan (fully chest) and Hok-Chan Ok-Rong (Hallow chest)

2. Phra Somdej Ket Chaiyo Jed-Chan (seven-tired) - There are 2 moulds which is called Jed-Chan Niyom (most popular) and Jed-Chan Khaen-Hak-Sok.

3. Phra Somdej Ket Chaiyo Kao-Chan (nine-tired) - This pim is very rare and is called Kao-Chan Hoo-Yan.

Content Texture of Phra Somdej Keschaiyo

There are divided into 3 types

1. Soft Content -> Material is quite rough and mixed with Tung iew oil. The colors are off-white with brown, white and yellow or brownish tint. Overall looks soft and naturally firm.

2. Hard Content Texture -> or so called "Hi-Powder content" The inner is white chalky. The color is white and brown. The surface is tough and dry all over.

3. Oily Content Texture -> The color is brown due to Tung iew oil is major ingredient.

Notification points of Hok Chan Ok Rong (Six-Tiered Hallow Chest)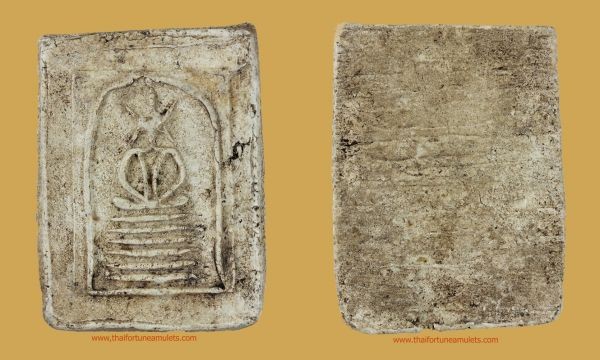 1. Four corners must be rounded due to mould creation.

2. All the left and right end of 6 tiers would be naturally sharp like sword.

3. Both side of beside cheeks are triangle.

4. Between lap and joined hands look like node.

5. Backside of this mould will have sweeping trace by bamboo knife or "Tok" which would be wiped from left to right.

6. The chest is depth which looks like triangle.

7. Backside is slippery which look like soapstone.


Notification points of Hok Chan Ok Tan (Six-Tiered Fully Chest)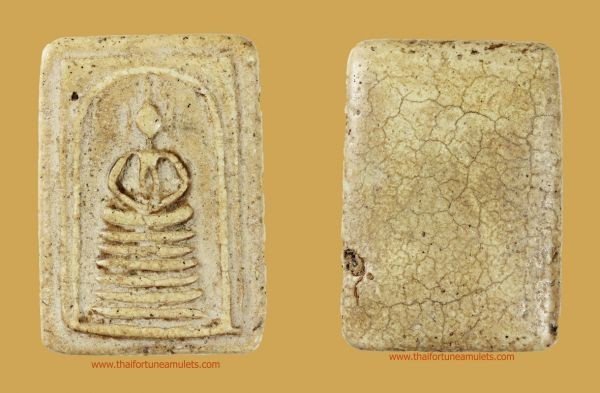 1. Four corners must be rounded due to mould creation.

2. There are black spots embedded under surface of image body.

3. There are 2 types of ears:- long curved and triangle.

4. Body is tall and fully chest which divided into 3 type:-wide, narrow and thick.

5. The elbow is bent at the right arm. For left arm, the elbow is rounded.

6. Laps are curving up which look like boat.


Notification points of Jed Chan Niyom (Popular Seven-Tiered)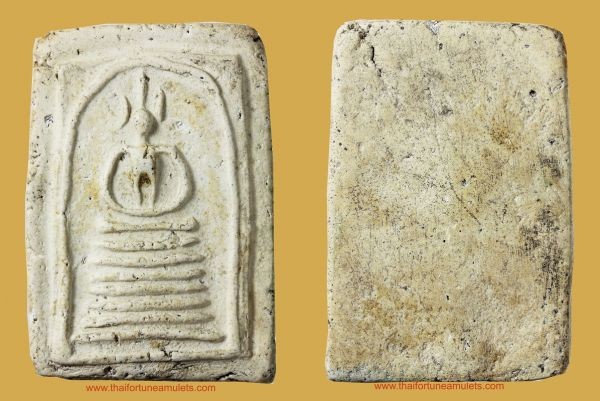 1. Top of mirror frames look like pennant.

2. The head stem looks like candle flame.

3. Long stem neck plus with the oval head looks like a conventional match head.

4. Both ears are long and curved type ( Hoo Bai Sri meaning in Thai)

5. The arms belt is more flat and looks like a symmetrical wine glass.

6. Significantly protruded chest. Abrupt declination at the overlapping point between the chest and abdomen.

7. Twisted abdomen. Looking like the root of a tooth.

8. Right side at end of knee is slightly curving up.

9. The uppermost stage has ascending ends, it collectively looks like a boat.

10. The last tier is not straight line but slightly bend in the middle.

11. The left end of the bottom most tier is needle-point like and touch the dome line.

12. The right end of the bottom most tier touch the dome line and looks like watch-band pin.

13. Linear cracks are often found on the backside edges.