Phra Kampang Tung Sesthi

The amulets were created in the era of King Phra Maha DharmarajaLitai in B.E. 1900 (A.D.1357), the 5th king of Sukhothai period, who faith in Buddhism, approximately over 650 years.From the memorandum found in Wat Phraboromthat about the making of Phra SoomKor mentioned that Phra SoomKor were made by 11 ascetics for presentation to the King Phraya SriDharmasokaraj, in the purpose of expanding Buddha religion by bringing several mixed special things to make the amulets. Then, invited Devas to make the moulds. After that pronounced incantations on all of amulets and took on Chedi (Pagoda).



Discovering of Phra Kampang Tung Sesthi

Phra Somgor were first discovered on B.E. 2392 in Wat Phra Borommathat, KamphaengPhet province, where known as The Millionnaire Field (Thung Setthi). The amulets were discovered when the reverend Somdej Phra Puttajahn Toh Prommarangsi from Wat Wakang went to visit his relatives in Kamphaeng Phet Province in B.E. 2392 (A.D. 1849). After reading the history of KampangPhet from stone inscription at Wat Sadej, Somdej Toh known that there were historic sites and Buddha relics located in North of NakhonChum City. Thus, Somdej Toh with governor had explored the said areas and found Wat Borommathat (Buddha relics temple) and another 3 pagodas which had been built by Phra Maha Maha DharmarajaLitai in B.E. 1900 (A.D.1357). The renovation had been done by Governor, and found many amulets, image Buddha and various of antiques over there.

At later time, the people then reconstructed the pagoda of Phra SrirattanaMahaThat and found the old text books on the long lost making techniques of Soom Kor Buddha amulets in the past. The old Sansakrit inscriptions in the texts describes the ancient city filled with abundance of Buddha amulets. Nakhon Chum was then named as a city of Buddha amulet collection. According to record where the pagoda of Wat Barommathat in which the inscription was found, during demolition for reconstruction a huge number of old Phra Soom Kor amulets were discovered. This is the location source of ancient amulets findings that is popularly known today as the "Millionaires Field" (Tung Sesthi).

Actually, there were more than 50 kru in KampangPhet province. One of famous area amulets found was "Millionaires Field" or Tung Sesthi which comprises of 9 kru (pits under the pagoda) where amulets were found

1. Kru Wat Borommathat

2. Kru Wat Pikul

3. Kru Wat SoomKor or Kru Natakham

4. Kru Wat Lersi

5. Kru Wat Noi or Kru SoomKor Dam (Black SoomKor)

6. Kru Baan Sesthi

7. Kru Wat ChediKlangTung

8. Kru Wat Hua Yang

9. Kru Wat Nong Langka

Another famous Kru called "Kru Muang" where located in the left side of Kampangphet city e.g. Kru Wat Phrakaw, Kru Wat PhraThat, Kru Wat PahMued, Kru Wat ChangLom, Kru Wat NakJedSiean.

Moulds and contents of Phra Kampang Tung Sesthi

Phra Kampang Tung Sesthi, Kampangpetch, two types of these amulets were taken into Benjapakhi set.


Phra kampang Leela Med Khanun (The walking Buddha posture)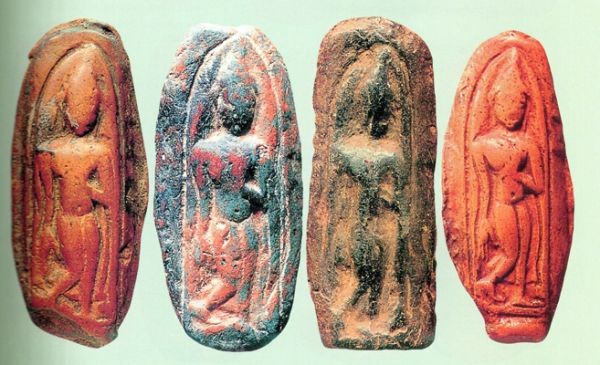 Due to Phra Leela Med Khanun is rare, few quantities and its shape is quite long, so Phra Kampang SoomKor can be used to replace the first type and still in preference nowadays.


PHRA KAMPANG SOOMKOR

Phra SoomKor made from 4 moulds.

1. Phra SumKor Pim Yai (Big mould) which divided into 2 types Size: 2.2*3 cm. (+,-0.1 to 0.2)

1.1 With lineal decorative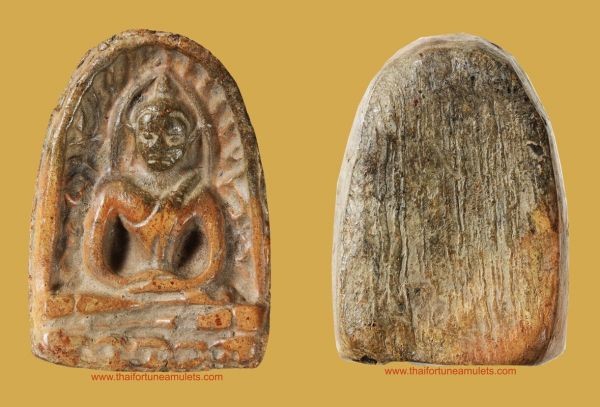 1.2 Without lineal decorative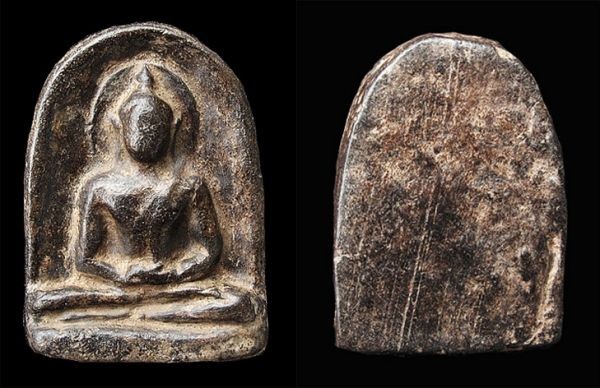 2. Phra Pim Klang (Middle Mould) Size: 2*2.8 cm. (+,-0.1 to 0.2)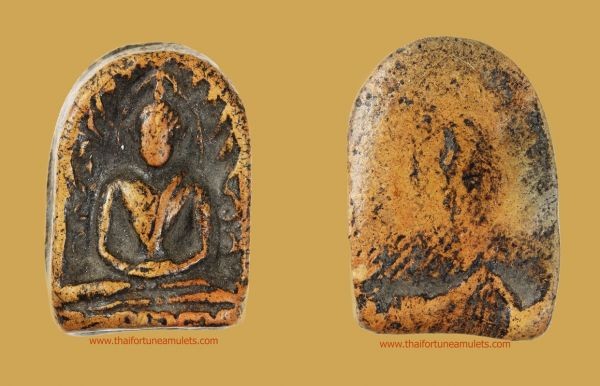 3. Phra Pim Lek (Small Mould) Size: 1.6*2.6 cm. (+,-0.1 to 0.2)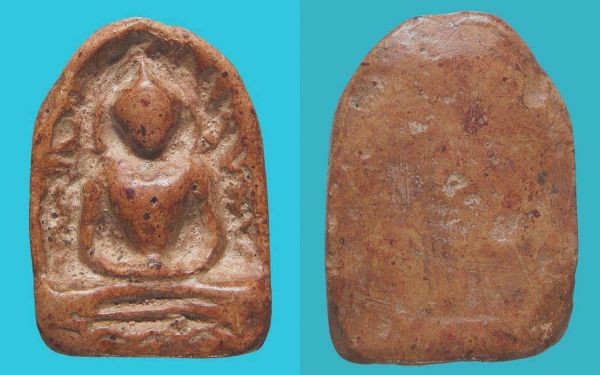 4. Phra Pim Lek Khanom Piah (rounded shape)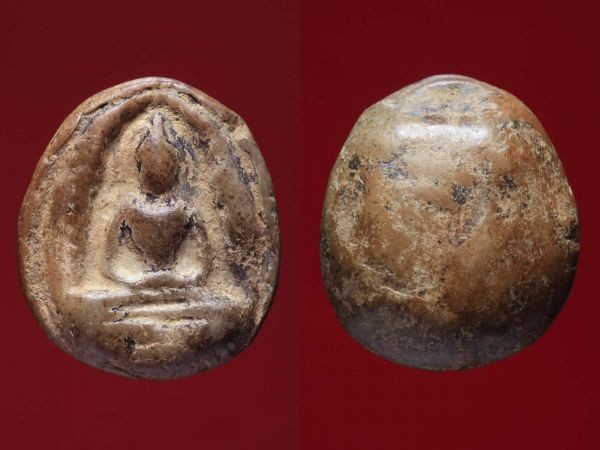 Phra Kampang SoomKor is nice in Buddhism art and holiness. This amulet made from clay mixed with pollen in style of Sukhothai arts in the attitude of meditation. The form is a sitting posture of a thumb shape. The Buddha sit cross-legged on Bua Leb Chang (the arch shape) which the upper edge is bend seem as the first letter in Thai alphabet "ก-kor" so this amulet was called "Phra Soom Kor" by the edge characteristic.

However, there are only 3 types of Phra SoomKor which can join to Benjapakhi set. These are Phra SoomKor Pim Yai, Pim Klang and Pim Lek. Phra SoomKor is an amulet which combined art style between Sukhothai art and Sri Langan art.

Due to the special mixture in amulets can be noticed soft greasy skin when cleaned. Another special characteristic is the skin with red spots called "wan dok makham". In the ditch of amulet can see black spots called "ra dam" (Black fungi) struck on. (see picture)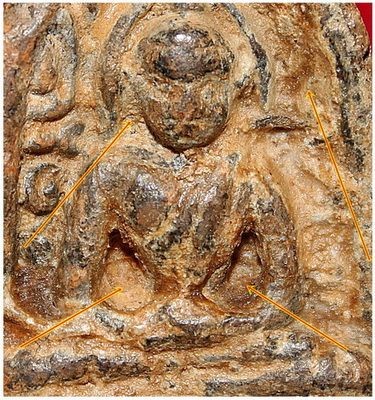 Harden Soil Stain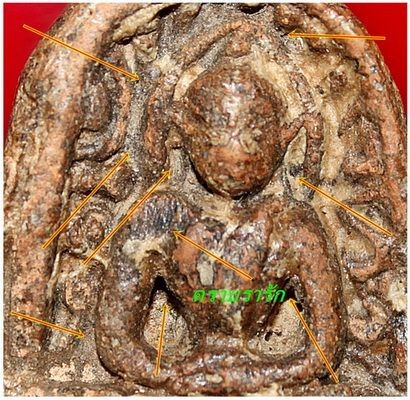 Black Fungi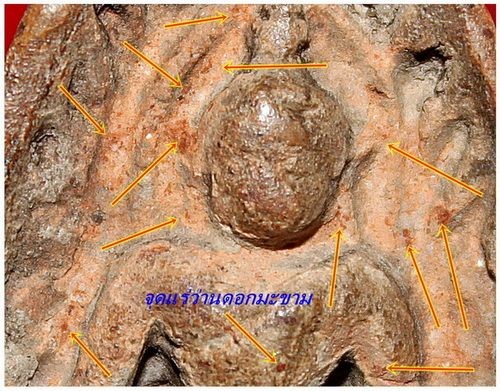 Wan Dok Makham Spot


Phra SoomKor is an amulet perfect in holiness such as devine bless power in bringing good-will, prosperity and admirable of kindness, prestige supporting, protection danger, warding – off harms, accident or disaster and wealth as in lucky. There is a slogan that "No poor if posses me" as mentioned in a palm leaves bible.

Content Texture of Phra SoomKor

1. Clay mixed with herb medicine and pollen – the popular content.

2. Pure Herb medicine powder. (rarely seen)

3. Mixed alloy votive tablets. (rarely seen)


There are many colors of Phra SoomKor:- Black, red, pale yellow, brown, green and terracotta. Colors of amulets depend on material mixture and temperature level while burnt e.g., moderate temperature:- red brick, low temperature:- pale yellow, high temperature:- dark green.