Phra PhongSuphan
Phra Phong Suphan was built in the reign of "Phra Maha Dhammaracha Lithai or Phra Maha Dhammaracha 1st" in B.E. 1890 (A.D. 1347). He was the King no.6 of Sukhothai period. Phra Phong Suphan was made by 4 anchorites and Phra Lersi Tivalai was the leader of anchority side and the leader of monk side was Phra Maha Thaera Piyatassi Saributr.
Phra Maha Dhammaracha Lithai believed in Buddhism. He applied himself to expanding his empire from Kampaengphet to Suphanburi. Those 4 anchorites had presented amulets to him. Amulets made from clay mixed with flora, pollen, herbs medicine and various minerals and were blessed by anchorites with spell until completely 3 months.
The Buddhist art of Phra Phong Suphan was U-Thong period. Most of them are made in the attitude of sub-during Mara. There were specific qualities such as compounds and other mixers with good virtue and bringing general prosperity or providing supernatural powers. Phra Pong Suphan of Suphanburi is a very popular for collectors.
Discovering of Phra Phong Suphan
The great Buddha amulets from SuphanBuri Province, famous and popular among all admirers are "Phra PhongSuphan" Kru (pits under pagoda) Wat Phra Srirattanamahatarth Suphanburi where was once in the heart of the ancient town Suphannaphum.
The amulets were founded in B.E. 2456 (A.D. 1913) by a monk on pilgrimage who got the clue to a treasure trove. He hired the Chinese man to dig out as specified in treasure clue but the monk did not bring out anything from pits except golden casket. Afterwards, Chinese man had stolen the treasurer including Phra Phong Suphan from pits to sell to market. Later on the governor of the city named Phraya SuntornBuri (Ie Kannasutra) had opened up the pit officially and found many Buddha amulets and antiques. Some of amulets were presented to King Rama VI.
Mould of Phra Phong Suphan
These types of amulets can be considered real treasures and founded in many different sizes.

Phra Phong Suphan were made in 3 moulds:

1. Pim Na-kae (old face)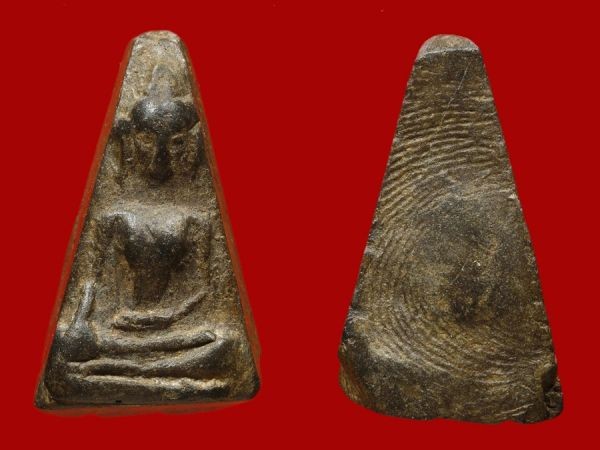 2. Pim Na-Klang (middle face)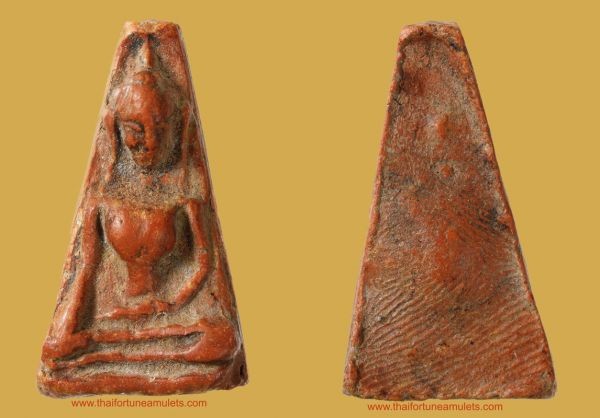 3. Pim Na-Noom (young face)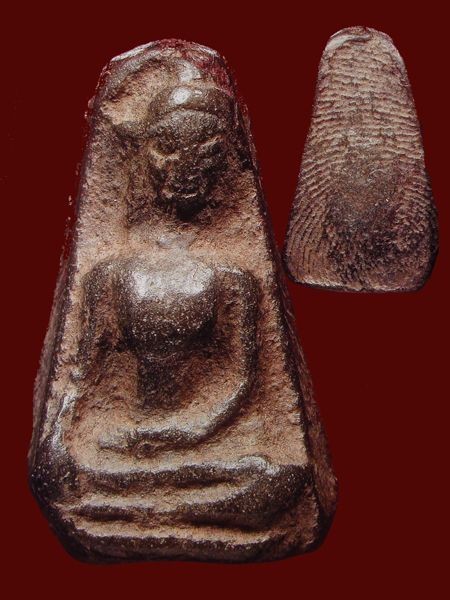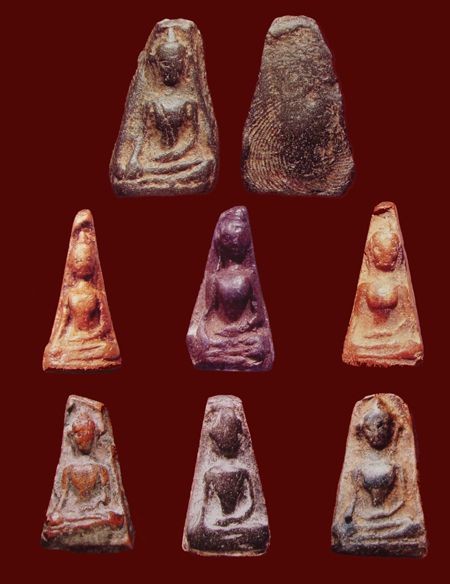 Content Texture of Phra Phong Suphan

Phra Phong Suphan made from

1. Fine-grained clay mixed with flora and 108 pollens.
2. High concentration of herb medicine juice or "Kae Wan" in Thai
3. Another content is mixed alloy of lead and tin which called in Thai "Phra Phong Suphan Nua Chin Ngern" or "Phra Phong Suphan Yod Toh" (contain in pot at top of pagoda)
Phra Phong Suphan Yod Toh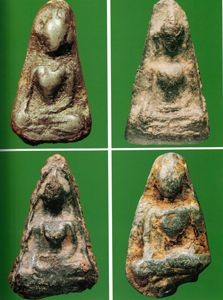 Buddha unique of Phra Phong Suphan
• Buddhism art style of early age of U-Thong period. The making of amulet has combination-designed in Sukhothai style in the attitude of sub-duing Mara.
• Most of amulets up to 90% were struck on by finger-prints of the maker at backside.
• Content texture of 3 moulds are the same which mean being created in the same age and same procedures.
• The special content of Phra Phong Suphan is looking soft greasy texture due to high concentration of herb medicine juice covered surface.
• Appear shrinkage of materials which look like wrinkle of oldies skin.
• The chest of Phra Phong Suphan was Protrude chest.
• The shape is triangle. There was uncertainty of cutting edges, some are square, some are pentagon. On the lower edge of amulet can see a trace by bamboo cutting.
• Black fungi struck on the body called "ra rak" and "Wan Dok makham" (red spots) also seen,
There are 4 colors: yellow, red, green and black. The different colors were from level of temperature while burnt.
Phra Phong Suphan is good holiness in every aspect such as immortal, harmless, safe from weapons, bringing good-will and very high value.
Phra Phong Suphan deserved to be one of the Grand Five set of Benjapakee the most famous and powerful amulets of Thailand forever.