Name of amulet : Phra Nangphaya
Creator / Era: Queen Phrawisutkasattri / Mid of Ayutthaya Period
Blessed by: Big consecration ceremony by sacred monks
Year /Age: B.E.2106-2133 (A.D.1563-1590) ~450 years.
Temple: Wat Phra Sri Rattanamathat, Pitsanulok province, Thailand.
Material: Sacred clay, flower pollens, golden and silver sand, etc.
Color: Brick
Size : 2.3x3 cm
Amulet Effects: Protection from danger, gaining respect from others, boosting attractiveness and good fortune.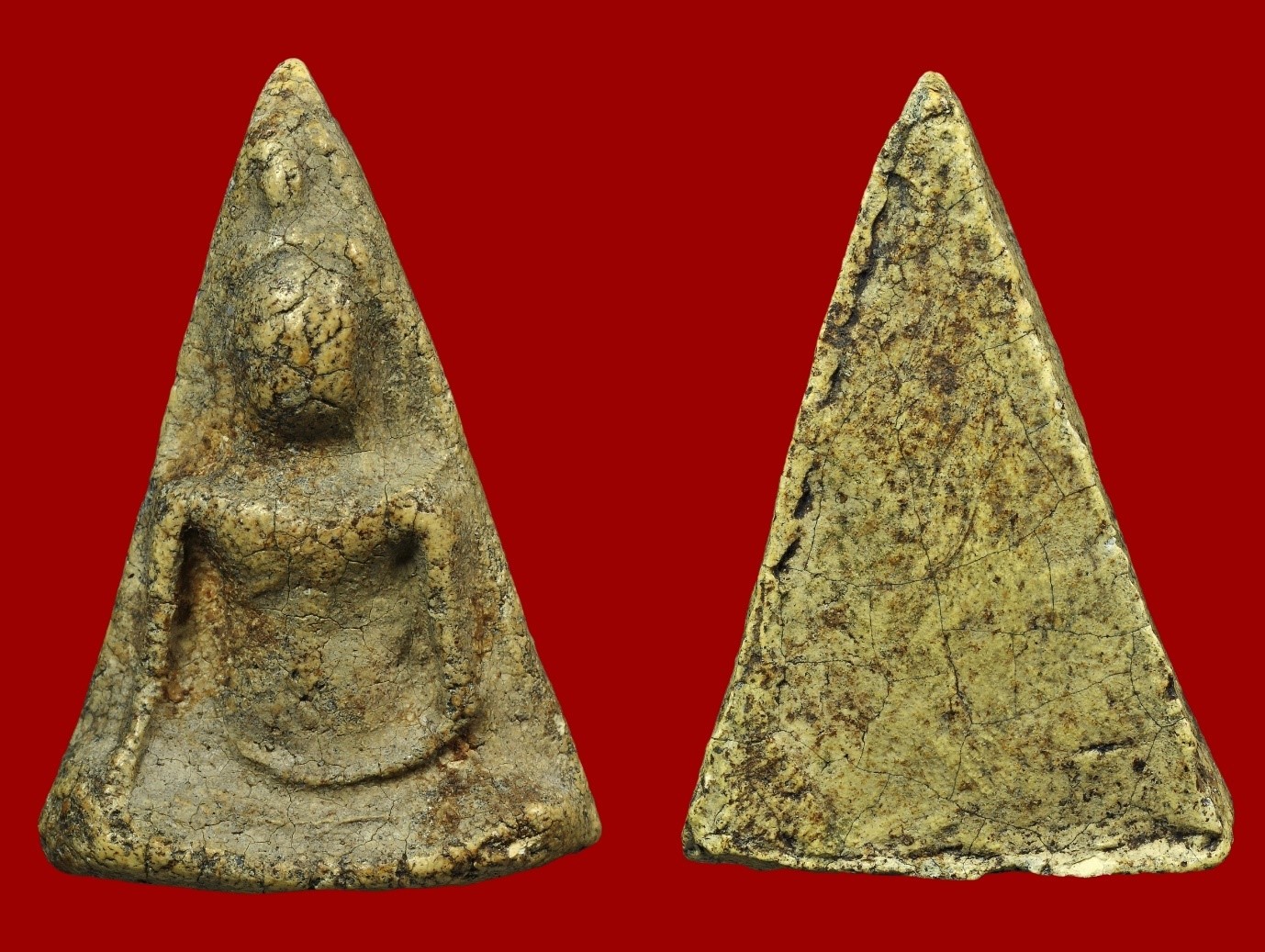 Phra Nang Phaya, honored as "Queen of Amulet", is one of the "Benjapakee" (set of top five great amulets). Phra Nang Phaya amulets were found about 400-500 years ago in ancient Thai chedis, History of this amulets "Phra Nangphaya" were started from Wat Nangphaya Pitsanulok Province which is the place these amulets were kept underground in many old pagodas. Wat Nangphya are one of an old temple from Pitsanulok since Sukothai era build by Phra Mahadhammarachatirath. In B.E.2106 there was a war, Burma troops had surround Pitsanurok, in this time and reason Phra Nangphaya were created to give to all soldiers. In B.E.2112, Ayutthaya lost to Burma, Phra Nangphaya amulets were given among all people and troops for motivation to gain freedom back from Burma.

Phra Nangphaya have an image of Buddha in triangular shape with firm breasts and a curvy figure while sitting meditation in the attitude of subduing Mara mean vitorious from all evils and image when Lord Buddha have enlightened, no base line, no frame like other amulets. Though made in the period of Ayutthaya Kingdom, the proportion, pattern, and form of Phra Nang Phaya amulets were tinted with Sukhothai style.

Phra Nangphaya are famous in bulletproof, wealth and good fortune. PhraNangphya become one of the most famous amulets in Thailand in the set of Benjapakee, the amulets are old and beautiful with an art of Pitsanulok. Phra Nangphaya bless as second amulets from PhraSomdej Rakhang to bring strong charm with attractiveness and respectful from all others.