Creator: LP Pern Thitakuno
Blessed by: LP Pern Thitakuno
Year / Age: B.E. 2544 (A.D. 2001) , ~ 20 years
Temple: Wat Bangpra, Nakhonpathom Province.
Materials: Wood
Size: 7*2 cms.
Amulet Effects: Prosperity, business success, personal charm and good fortune. Protection from harms and danger.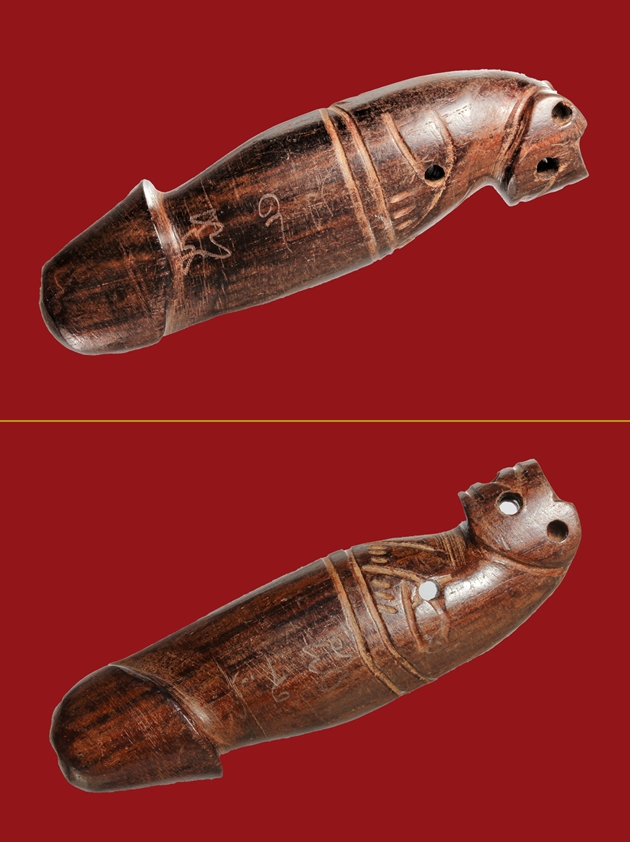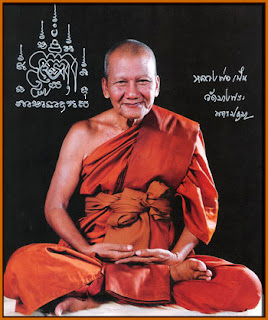 Luang Phor Pern was born 12th August BE 2466 in Nakhon Pathom province. He studied magic from Luang Phor Daeng Wat ToongKauk Suphanburi province when he was a layman. Luang Phor Daeng has been known as a guru monk who has knowledge of Visha and meditation. Luang Phor Pern wanted to study magic charms for protecting himself from the dangerous elements of the region. At that time, he was still a soldier. After finishing, Luang Phor Pern studied spiritual tattoos or Yant composition from Luang Phor Him Wat Bang Phra who was a teacher in Buddha Magic and Sorcery.

Luang Phor Pern was ordained at the age of 25 at Wat Bang Phra for more than 4 year, until Luang Phor Him passed away. He has been an expert of concentration of mindfulness in Buddhism way. After that, he went to Luang Phor Opasi in order to gain more knowledge about Visha and Buddhism for about a year.

In BE 2496, Luang Phor Pern went to Tudong in the jungle alone on the border of Thailand and Burma. Tudong refers to the monk's journey to gain knowledge to build up good karma and to know the teaching of Buddha. By BE 2509, devotees and disciples of Luang Phor Pern erected a statue of him in honour and respect of all the great acts of compassion. He had performed for the folk of Nakhon Pathom province.

At the age of 26,Luang Phor Pern would become ordained as a monk. He was ordained by Phra Ajarn Huem, who was also his teacher in Buddha Magic and Sorcery. Luang Phor Pern was a Disciple of "Agkara Khorm" , and a student of yant composition and application. His yant were renowned for the power that they carried. Luang Phor Pern studied Vipassana meditation with utmost dedication. He then became a disciple of Luang Phor Opasi who was one of the great monks of that era and is known for his white magic power. After this, Luang Phor Pern went "Tudong" in the jungle of Kanchanaburi which was known as being the thickest darkest jungle full of dangerous animals and evil spirits. It was said that when Luang Phor Pern was in the jungle, he was protected by a huge fearsome tiger which always accompanied him. Since then, the tiger became the protective symbol of Luang Phor Pern.

Luang Phor Pern seemed to be loved and respected wherever he traveled, due to the fact that he possessed such a transparent personality that allowed all to see his great compassion and his power to help folk with his magic. Luang Phor Pern later became the Abbot of Wat Koeg Khaemao in Nakhon Pathom, which at that time was not only in a bad state of repair but was also in an area that was inaccessible, being thickly forested. He developed and repaired the temple gaining the love and respect of the local people. His very first amulets were consecrated at Wat Koeg Khaemao. It was from the donations received in return for those amulets which were consecrated by him that he was able to renovate the temple. After many years at Wat Koeg Khaemao he was invited to become Abbot of Wat Bang Phra where he became better known for spiritual tattoos or yant especially the tattoo festival in the month of March. Luang Phor Pern passed away in BE 2545 at the age of 79.