Creator: LP Iee Buddhasaro
Blessed by: LP Iee Buddhasaro
Year / Age: B.E. 2455-2460 , ~ 90-100 years
Temple: Wat Sattahip, Chonburi Province.
Materials: Wood
Size: 7*1.7 cms.
Amulet Effects: Prosperity, business success, personal charm and good fortune. Protection from harms and danger.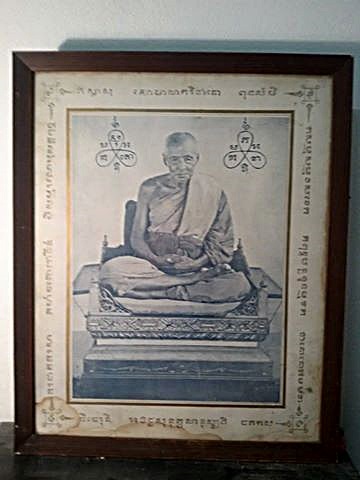 Luang Phor Iee Wat Sattahip is one of the guru monks in Choburi Province in the pre-world war 2 period. Luang Phor Iee is well-known in knowledge and consecrating of Paladkhig. He is also the teacher of Luang Phor Tee Wat Hu Chang. Back in the pre-WW2 era, not many monks had the knowledge to use Mekaphat to consecrate amulets except for Luang Phor Iee Wat Sattahip and Luang Pu Boon Wat Klang Bang Kaew. It is believed that by using Mekaphat as the material of the amulet, it can prevent black magic, protect against danger and bring good luck to wearers.

Luang Phor Ie was born on 1st October BE 2408 in Chonburi Province. At the age of 25, Luang Phor Iee was ordained as a monk at Wat Ang Silanok. After his ordination, Luang Phor Iee studied magic and meditation under the guidance of Luang Phor Daeng Wat Ang Silanok, Luang Phor Jun Wat Ang Silanok and Luang Phor Muen Wat Ang Silanok for 6 years. After that, Luang Phor Iee went to study Wicha and meditation from Luang Phor Parn Wat Bang Hia who was a guru monk famous for his tiger amulet. Moreover, under the guidance of Luang Phor Parn, Luang Phor Iee was brought along to practice meditation in deep forest around Thailand. Afterward, Luang Phor Iee went back to Chonburi Province and his father decided to build Wat Sattahip on BE 2450.

After finishing building Wat Sattahip, Luang Phor Iee went to deep forest to practice meditation. While meditating, Luang Phor Iee discovered a pool that had Palakhig inside it. He saw the Paladkhig in the pool swimming on the water as if it was a fish. Then, he tried to take the Palakhig out from the pool but he could not. Upon that, a villager saw it and told Luang Phor Iee that if he wanted to take out the Paladkhig he would need the help of a young female. Soon, Luang Phor Iee founded a young female that was willing to go to the river and take out the Paladkhig. After it was taken out of the river, He brought it back to the temple and tried to consecrate Paladkhig. It was the first time that he consecrated a batch of Paladkhig and he consecrated only 108 pieces but it is believed that the Paladkhig from the river was the most unique as it is the first Paladkhig. After consecrating the Paladkhig, Luang Phor Iee would put the batch of Paladkhig into the temple's pool to find out whether it could swim like what he saw in the river. And it turns out that all the Paladkhig were able to swim hence this made Luang Phor Iee well-known. Luang Phor Iee passed away on 20th September B.E. 2489 at the age of 82.